PRODUCTIONS
Our Next Show:
We will perform "Guys and Dolls" from 3rd to 6th April 2019.
"When you see a guy reach for stars in the sky, you can bet he is doing it for some doll!"
Nothing much has changed in the last 70 years! Yes, 70 years, but, essentially, what we have here, set against the gambling culture of 50's New York, is two very different love stories.
Those awful Prohibition years are well in the past now, but there are still some remnants from those days looking for action and cash, albeit of a less 'racy' nature. This provides a perfect opportunity for Nathan Detroit to carve out an easy income, merely providing venues and opportunities for them to lose their money to each other! Low risk and safety - that's his policy - and that's true of his relationship with Adelaide too. Engaged for 14 years because he's too scared to commit! And yet he couldn't bear to lose her. So she has to accept what he is capable of giving and wait for her man to grow up!
What is needed is a catalyst - and Sky Masterson breezes into town! Now here's a free spirit if you like! No lowrisk strategies for him! Never afraid to gamble huge amounts on bets that he regards as worth the risk, and not bothered by emotions that get in the way. And then he meets a 'doll' - a doll unlike any he has met before - and his whole world is turned upside down! As is hers! When opposite worlds collide! Something else that hasn't changed in the last 70 years!
So...while we wait for the inevitable to happen - to both couples - let's enjoy the sparkling wit and brilliant songs that remain as fresh today as when they were written. We are guaranteed to leave the theatre chuckling and singing, especially after joining in with the final number! And we will certainly be agreeing with the sentiment: "Luck be a lady tonight!"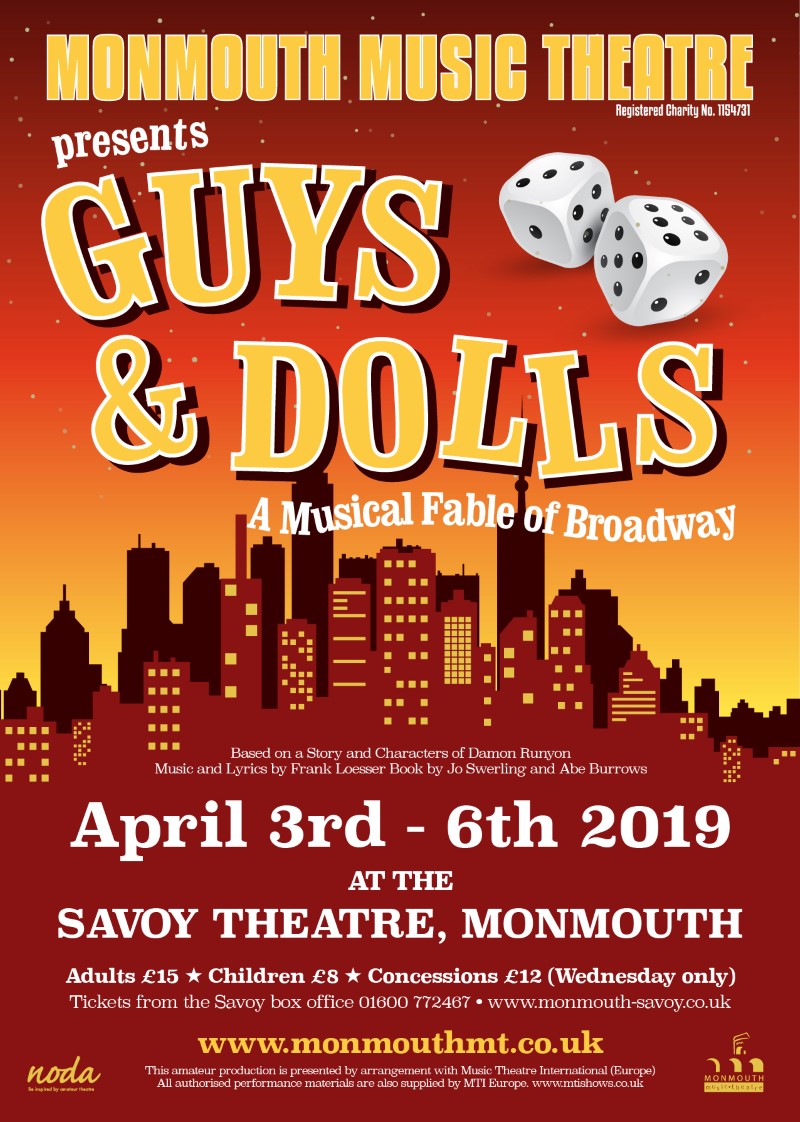 Click on the images below to view photos and posters from our previous productions...
Full List of Past Productions:
2018: Sister Act | HMS Pinafore
2017: Hello, Dolly!
2016: The Wizard of Oz | The Mikado
2015: Kiss Me, Kate | Pirates of Penzance
2014: Oliver! | When Worlds Collide
2013: Anything Goes | It's a Musical World
2012: Me & My Girl | Trial By Jury (The Untold Story)
2011: Patience | Lady Dingestow's Diamonds
2010: My Fair Lady | Raise the Roof
2009: Pirates of Penzance
2008: The Mikado | The Zoo
2007: Annie Get Your Gun | Trial By Jury
2006: Oklahoma | Even Educated Fleas Do It
2005: HMS Pinafore
2004: Calamity Jane
2003: The Geisha | S'Wonderful - Let's Do It
2002: Countess Maritza | Fiddler on the Roof
2001: Ruddigore | A Night at the Movies
2000: Yeoman of the Guard | Magic of the Musicals 2
1999: La Belle Helene | Magic of the Musicals 1
1998: The Grand Duke | Here's A How De Do
1997: Trial By Jury | The Merry Widow
1996: Princess Ida | Golden Age of Operatta
1995: Die Fledermaus
1994: Pirates of Penzance
1993: Iolanthe
1992: The Sorcerer
1991: Patience
1990: The Gondoliers
1989: The Mikado | Trial By Jury
1988: HMS Pinafore